May 03, 2019
7-9pm
$30 ea./2 for $50


Cheltenham Center for the Arts
439 Ashbourne Road
Cheltenham, PA 19012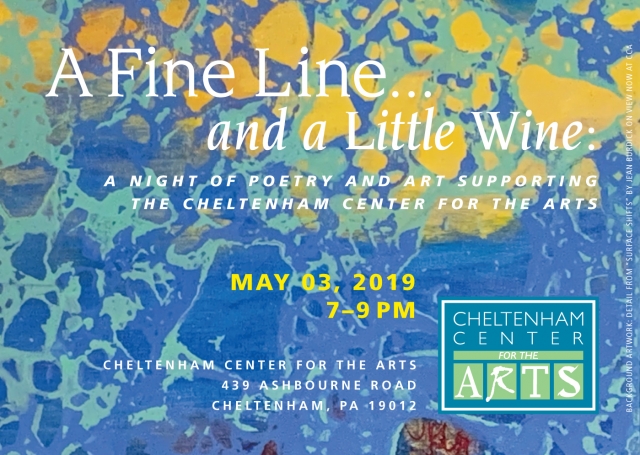 Cheltenham Center for the Arts is pleased to be partnering with Open Book Bookstore for our Spring Fundraiser, to present a night of shared poetry. April is National Poetry Month, but we just can't stop! We've invited some fantastic poets for a cabaret evening of spoken words. The night includes visiting poets, wine, tempting treats, art and books! Join us to celebrate A Fine Line…in conjunction with our 76th Annual Juried Painting Show at the Cheltenham Center for the Arts!
The schedule:
7pm: Meet, gather, imbibe, snack, and browse the 76th Annual Juried Painting Show.
7:30pm: Round One begins. Our featured poets take turns at the mic and each share an original work.
7:50pm to 8:10pm: Browse and socialize, meet the poets, have them sign books. (Open Book will have an on-site bookstore featuring the works of the evening's poets.)
8:10pm to 8:30pm: Round Two begins: our poets read again!
8:30 – 9 – You're up! Poetry Open Mic Round: If you have a poem you'd like to read aloud, this is the time to do it!
Here's how it works. Come prepared and bring a poem with you (either original or not). If you want to read but don't have a poem, we'll have poems at the ready, inspired by the art exhibit. Each reader will sign up on-site during the event and is limited to no more than 3 minutes at the mic.